Welcome To The Next Generation
In Orthodontics
Kare Orthodontics
Creating smiles that last a lifetime!
Request An Appointment
Meet Dr. Ehsan Karimian
Dr. Karimian is a highly respected orthodontist completely invested in making you love your smile.
Dr. Ehsan Karimian, Orthodontist
Dr. Ehsan Karimian had both his orthodontic and dental training in the Bay Area. He received his orthodontic specialty training at the University of the Pacific in San Francisco. He also attended UCSF School of Dentistry in San Francisco for his dental training where he graduated with honors. During those years he fell in love with Marin County and all it has to offer. He also holds dental and orthodontic degrees from Iran where he had the opportunity to help people in the underserved areas.
Dr. Karimian is a Diplomate of the American Board of Orthodontics. Becoming a Diplomate of the American Board of Orthodontics is a unique achievement. In order to become Board Certified, Dr. Karimian passed a comprehensive oral and written examination covering all phases of orthodontic and dentofacial orthopedic care. He also had to present to the Board detailed case reports on the treatment he provided for a broad range of orthodontic problems. This journey placed him at the top of his specialty.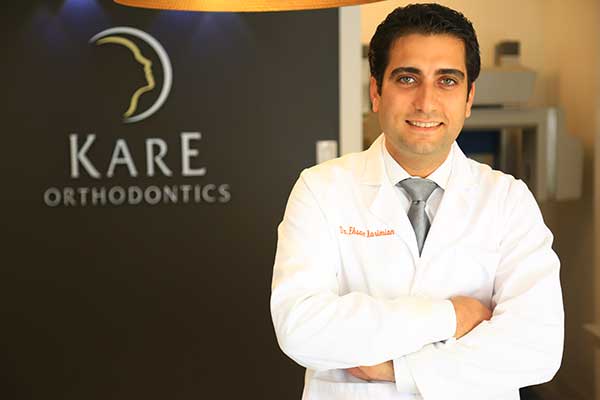 State of the art Braces
Means faster treatment times and less discomfort
The number one question asked by most patients in orthodontic treatment is "when do I get my braces off" and "will my smile look beautiful". There are not very many people who like braces, but the smile that you get at the end of treatment, the one that lasts your whole life, is worth the discomfort.
Now, state of the art technology has made it easy for you to have the smile you want faster and with less discomfort than ever before. We use Insignia brackets, These custom designed brackets are proven to lessen the time you spend in orthodontic treatment and give you a smile that's unique to you.
Why come to Kare Orthodontics?
Most people think all orthodontic offices are the same. Many are. We aren't.
Stop by to see what makes Kare Orthodontics special!
"See what makes us different!"
What We Do
Treatment Options
Creating Beautiful Smiles with state of the art technology and an artistic touch.
415-457-2440
info@kareorthodontics.com
912 Grand Ave. Suite 203 San Rafael, CA 94901